Patterns for a RenDanHeYi evolution from Spain
Talking to the HR community in Spain, Haier's example of moving toward a more adaptive, ecosystemic, and innovative firm raised more than one reflection from companies on the journey towards business agility.
Abstract
Boundaryless recently had the possibility to talk about the RenDanHeYi to a community of HR professionals and executives in the Spanish market as part of the Agile HR Series, events about progressive and unconventional organizational models organized by Kelea.
In a unique historical time characterized by unprecedented levels of disruption at the social, political, and business levels, Haier's example of moving toward a more adaptive, ecosystemic, and innovative firm raised more than one reflection from companies and entrepreneurs attending the webinar.
To know more about the RenDanHeYi, consider joining the upcoming free webinar, The RenDanHeYi in practice. Voices from the world, for the first major release of our 3EO Toolkit and hands-on experiences from companies spanning 3 continents on June 21st at 2 PM CEST and booking your seat for the 3EO / RenDanHeYi Masterclass.

---
Getting rid of bureaucracy by unlocking human power
In line with Humanocracy, Gary Hamel, and Michele Zanini's bestseller, the RenDanHeyi has been recognized as a champion at busting bureaucracy and unlocking the full potential of all human beings in the business landscape.
When facing an $8.4 Trillion toll on the global economy due to organizations' inability to address market turbulence and unpredictability, reinforcing control only makes the problem worse. In 1988, management guru Peter Drucker predicted that by 20 years, managerial layers and managers themselves would have been reduced by 50% and 2/3, respectively. This estimate, unfortunately, never came true. A study from Innosight about the lifespan of S&P500 players further reinforced the message by proving how incumbents kept disappearing at an increasingly alarming pace (life expectancy was 61 years in 1958 and less than 20 years today) exactly because of the internal constraints, procedural delays, managerial control and cultural limitations impeding a constant reinvention of their products, services, and competitive positioning, at the pace demanded by the market.
In this scenario, Haier is the perfect example of how to commit every single individual in the firm to become a sensor and catalyst for new opportunities and ventures that will reduce organizational and technological debt. Such systemic, massive, and accelerated support for the creation, cultivation, and, eventually, incorporation of Micro-Enterprises is capturing the interest of Fujitsu and many other international enterprises in any industry and region, with over 20K firms currently exploring the RenDanHeYi as an inspiration to rethink their internal structures.
Keeping pressure at bay through organization design
While highly thought-provoking and stimulating for senior leaders and other employees, a similar call to take on responsibility, decide and embrace risk autonomously may sound frightening in less entrepreneurial environments.
During the webinar, Haier's belief that every employee can and should be invited to act as a CEO offered a fresh perspective on long-lasting issues the entire European market is facing when it comes to employee motivation, satisfaction, and engagement. Still, freedom comes with fear, responsibility, and potentially failure.
Zappos, Amazon's online shoe store, made famous by Tony Hsieh's (its former CEO) passion for delivering happiness through an exceptional customer experience, demonstrates alternative possibilities. On one side, its use of Holacracy and Market Based Dynamics looks surprisingly similar to the RenDanHeYi with circles, not Micro-Enterprises, freely experimenting with new business opportunities, and exchanging value through unit-to-unit contracts, exposing service catalogs, and managing profit flows even with the possibility to invest in other teams. Still, Hsieh's beliefs and family-oriented values powerfully pushed the team, not the individual employee, to be the central agent of reinvention. The owner is more a facilitator and a host than a manager. It's the group that takes action by making use of consent-based decision-making to include and integrate all the voices in the team. In an entirely different sector and context, Zappos' experience confirms a universal need for both going beyond a paternalistic view of humans at work and for balancing freedom and psychological safety in a way that is uniquely suited to the specific context at hand.
Is this really happening?
No doubt the solutions for rethinking entrepreneurship, ownership, customer centricity (through Micro-Enterprises and Ecosystem Micro-Communities), participative strategy (through Industry Platforms), contract and investment-based coordination (VAMs and EMC contracts) very often sound progressive if not surprising to most of the companies attending our events.
While being hard to copy and paste, real-world experiences help increase confidence about the actual implementability of the concepts presented. In addition to the now well-known stories of Haier Europe, Fujitsu, General Electric Appliances, Bosch, Zappos, etc., this installment of the Agile HR Series has provided the opportunity for Boundaryless to share some more recent but less explored stories of RenDanHeYi transformation, such as:
A lean, smart, and innovative communication agency in Italy went from studying to fully implementing the RenDanHeYi in months. Thanks to the reasonable size, right after attending one of our masterclasses, the company's co-founders decided to transform their organization model from an agile firm selling digital services into an incubator of multiple complementary businesses, ideated, launched, and eventually co-owned by its employees. Taking inspiration in the naming from Italian culture and cuisine, each kitchen (unit) has one or more owners (chefs), a dedicated team, investments from the parent company, and support services from its peers. With MAQE's and Boundaryless' cases, this further demonstrates the possibility of positively leveraging the RenDanHeYi in smaller entities within significantly shorter time frames.
One of the largest and most successful European banks, with over 80K people, trained a group of pioneers about the RenDanHeYi and involved them to explore progressive organizational models, commencing from one of its divisions and subsequently extending the opportunity to the rest of the group. Both senior stakeholders and the middle management reflected on how to tweak Haier's experience in a regulated sector and within the specific constraints existing in the bank. The group collected and formalized more than 10 ideas for new Micro-enterprises. At the same time, a selected team composed of HR, representatives from business units, and control functions helped to shape an overall new organizational scheme addressing questions regarding ownership, budgeting, incentivization, people allocation, team management, units' lifecycle, and more. The scheme will facilitate the success of the first Micro-Enterprises, while also being informed and improved through the lessons learned during the experimentation. In a much larger and more complex environment than the Italian communication agency, this transformation will keep the bank busy for more than 12 months.
Patterns for the evolution ahead
The webinar terminated with some overarching considerations about where to get a RenDanHeYi transformation started and some effective principles to drive it:
More than purely focusing on internal needs, it is safer and probably more in line with Haier's own history to elicit the strategic rationales (e.g., intrapreneurship, business agility, going towards a platform strategy, etc.) for evolving the organization through Micro-Enterprises and other RenDanHeYi artifacts. Having clear business drivers in mind helps secure commitment and funding while also clarifying the exact outcomes expected by the project. As a reinforcing example, recent conversations with the CEO, the Chief Strategic Officer, and the Head of Transformation of a global company headquartered in France explicitly involved the request to articulate an ROI from the initiative.
Project sponsors should be currently aware of the highly experimental nature of the ideas introduced by the RenDanHeYi. The disruptive potential of the transformation we are referring to demands a significant dose of risk-taking, willingness to own hard decisions, and the inherent difficulty in predicting precise deadlines and results on behalf of the pioneers. Adopting an agile, iterative, and participatory approach maximizes both the pace of change and the probability of success by distributing the ownership to a good chunk of the organization. Such a pilot-based and explorative stance only work if the organization has established the right expectations, necessary psychological safety, and span of freedom through which individuals and teams will decide to put themselves on the line of a RenDanHeYi evolution.
---
Are you into future-proof organization design concepts, techniques, and tools?
Join us at the upcoming 3EO / RenDanHeYi Live Masterclass in September: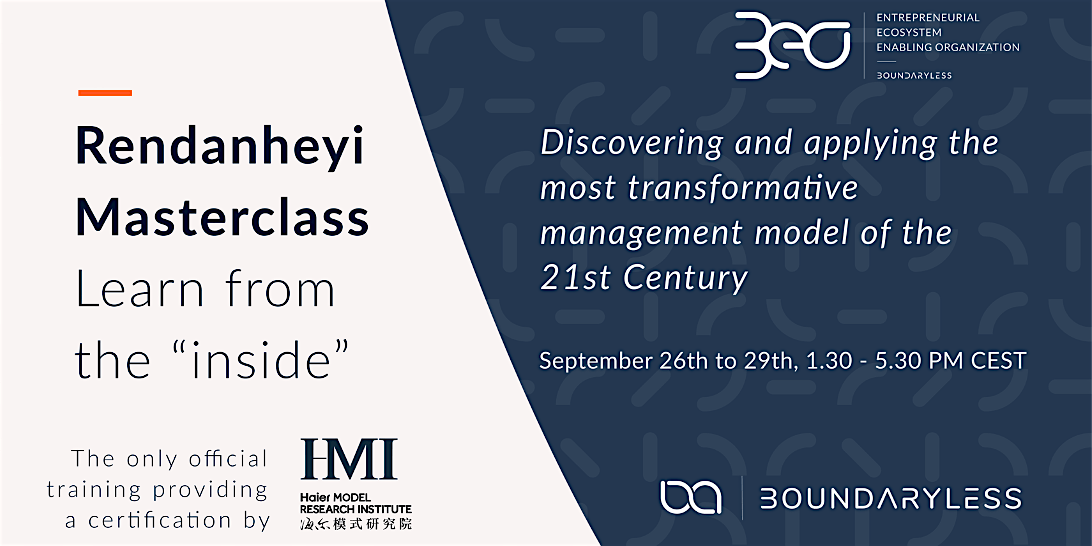 ---
Before You Go!
As you may know, everything we do is released in Creative Commons for you to use. If you're getting value out of these reads and tools, we encourage you to share with your friends as this will help us get more exposure and, hopefully, work more on developing these tools.
If you liked this post, please consider following us also on Twitter.
Thanks for your support!
Get help in exploring and designing entrepreneurial and ecosystemic organizations